DAY1. ICN AIRPORT -GWANGJANG MARKET –CHEONGGYE STREAM
The nation's first permanent traditional market. Established in 1905, the market today is home to more than 5,000 stores selling fabric, bedding, handmade crafts, ibaji food, and hanbok. Many of Gwangjang's stores and alleys have remained unchanged from the way they were in the past.
Until it was restored in 2005, Cheonggyecheon Stream existed only as a neglected waterway hidden by an overpass. Today, it has been transformed into a haven of natural beauty amidst the bustle of city life. Along the stream, it will be a good promenade and you can mingle with Seoulites enjoying natural stream in the metropolitan city, Seoul.                              
Overnight Seoul
DAY2.  MT. NAEJANG  W/ CABLE CAR – AUTUMN TUNNEL
Naejangsan National Park was designated as the 8th national park in Korea in 1971. It is one of the five representative mountains on Honam, as well as one of the eight most beautiful places in Korea.
Naejangsan National Park has native flora such as the Muscle tree, Alien oak, Mongolian oak, Giant dogwood, and Maple and is the northern limit for the autogenous growth of southern plants such as the Nutmeg tree and Sloumi, A total of 919 plants species are reported,. As for the animal species, there are a total of 1,880 animal species including 12 endangered species such as the Small-eared cat and Yellow-necked marten.    
Overnight Jeongeup
DAY3.  BAEYANGSA TEMPLE – JUKNOKWON – METASEQUOIA LINED ROAD
Founded during the reign of King Mu of the Baekje Dynasty (632), Baekyangsa Temple is located within Naejangsan National Park. The combination of the mountain and valleys on both sides creates beautiful scenery. Nature reveals its beauty throughout all seasons here especially the red maple leaves during the fall.
Juknokwon in Damyang is a bamboo forest cultivated by the town of Damyang. Seonginsan Mountain behind Damyang Hyanggyo (Confucian school) was transformed into Juknokwon Bamboo Garden featuring a beautiful artificial waterfall, pavilion, walking paths and an eco-exhibition center, a popular destination for visitors.
Metasequoia trees were planted along the street in the early 1970s. Now, the trees have grown so high that they seem to block out the sun! Thanks to these stately trees, in 2002 the Korea Forest Service selected the boulevard as one of the most beautiful roads in Korea.
Overnight Gwangju
DAY4.  UNJUSA TEMPLE – BOSEONG GREEN TEA PLANTATION
Unjusa Temple is unlike other temples in that it has unusual Buddha statues and pagodas – it is often referred to as a mysterious temple. The founder of Unjusa Temple is not known but it is speculated that it was built during the Silla Period (BC 57~935).
Boseong has been a tea plantation area since the days of the Japanese occupation, and with its long history comes large plantations, their traditions, and highly skilled workers. The most famous of these is the Daehan  Dawon Plantation.
Overnight Yeosu
DAY5.  NAKANEUPSEONG FOLK VILLAGE – SUNCHEON BAY GARDEN
When you enter the front gate of Naganeupseong Folk Village, on the east side of the castle (called "Nakpung-ru"), you see a straight road leading to town. Follow along this road and you will come across the General Im Kyeong-Eop Monument, resource center, and other interesting sites. You may also walk to the end of this road, climb up to the castle itself, and walk along the castle wall to the south. The entire castle is exceptionally well-preserved, and you can view the whole town from the top level.
The Suncheon Bay Garden was established in order to turn 1.12 square kilometers of natural habitat into a conservation area, where it houses over 505 species of trees and 113 species of flowers. Especially, the numerous groups of tulips and royal azaleas are truly a sight to see. In addition, the nearby 30,000-square-meter field of canola flowers is in full bloom in May, which creates a beautiful yellow "wave" of color and trees make a great shades of canopy for the area.
DAY6. SEOUL FULL DAY TOUR
Located at the corner of Seoul's busiest downtown intersection, Deoksugung Palace is famous for its elegant stone-wall road. It is also the only palace that sits alongside a series of western style buildings that add to the uniqueness of the surrounding scenery.
(Royal guard changing ceremony: 11am/2pm/3.30pm, Duration: 15min. Closed on Monday)
The 19km-long Bugak Skyway runs along the northeast ridge of Bugaksan Mountain.
The road offers lovely views of Bukhansan Mountain's Bibong Peak and Munsubong Peak on one side and Namsan Mountain on the other side. The skyway leads to an octagonal pavilion at the top called Palgakjeong, where visitors can get a panoramic view of the city, take photos, and have a meal or coffee while enjoying the scenery.
Bukchon Hanok Village and Samcheongdong street is composed of lots of alleys and is preserved to show a 600-year-old urban environment. Now it is used as a traditional culture center and hanok restaurant, allowing visitors to experience the atmosphere of the Joseon Dynasty.
You will visit seaweed museum and experience making kimbap and hanbok.
Hongdae  is the main entertainment and nightlife district in South Korea. In the evening, numerous performances, concerts, and musicals are held by independent artists and mainstream entertainers. On an exploratory wander through most Korean neighborhoods, you will likely stumble across one or more signs with the following lettering: (usually written vertically on a neon sign).  This lettering is pronounced as "no-rae-bang".         
OVERNIGHT SEOUL
DAY7. NAMI ISLAND – PETIT FRANCE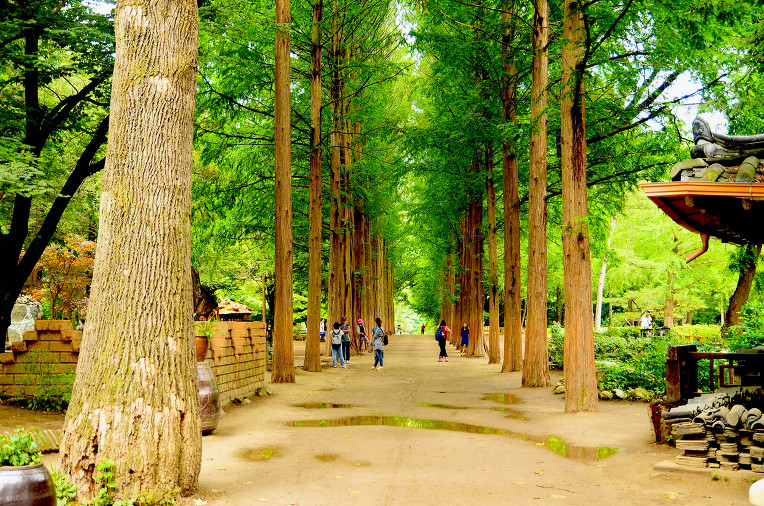 Namiseom Island was formed as a result of the construction of the Cheongpyeong Dam. It is a half moon shaped (462,809㎡) isle, and on it is the grave of General Nami, who led a great victory against the rebels in the 13th year of the 7th king of the Joseon Dynasty, King Sejo (reign 1455 ~ 1468). Namiseom Island is 63 km away from Seoul in the direction of Chuncheon, and is famous for its beautiful tree lined roads. The island is 30 minutes away from Chuncheon and an hour away from suburbs of Seoul. Since it is not far from Seoul, many couples and families come to visit.
After travelling 10 km along the lakeside road from Cheongpyeong Dam, in the direction of Namiseom Island, you will come across a cluster of white, exotic buildings on the left-hand hillside. From its outward appearance, it would appear to be a village that belongs on the Mediterranean coast or in a pastoral area of the Piedmont Alps. This is Petite France, a French cultural village set in the Korean countryside!
DAY8. LOTTE WORLD – LOTTE DUTY FREE SHOP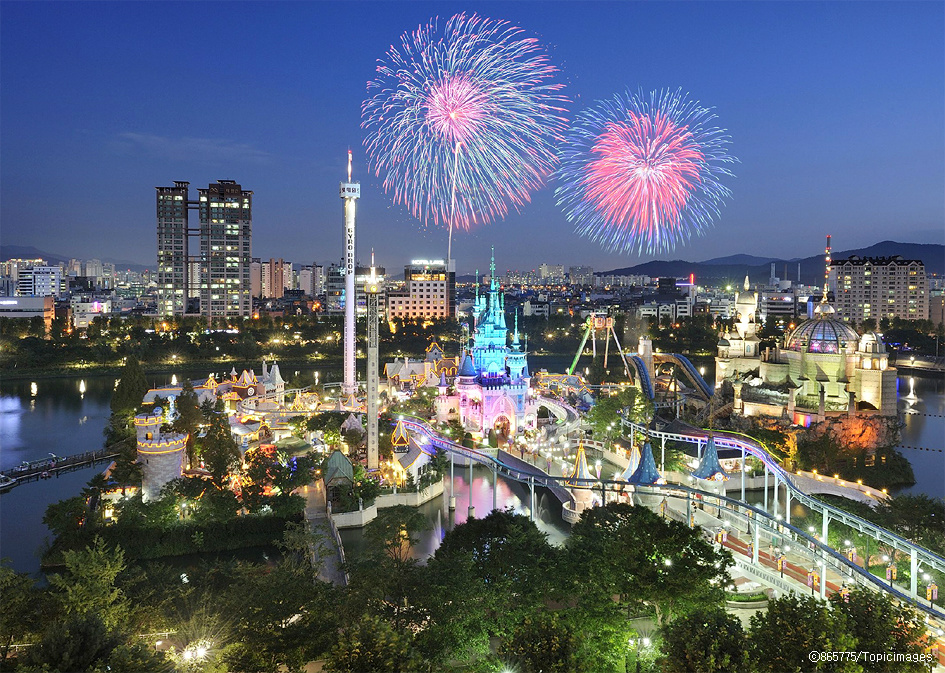 Located in the heart of the city, Lotte World is the perfect spot for entertainment and sightseeing. It is a theme park filled with thrilling rides, an ice rink and different kinds of parades, as well as a folk museum, a lake, and much more. Approximately 6,000,000 visitors are welcomed every year, and about 10% of the visitors are international tourists. The structure inside makes use of the natural sunlight, and it is open for visitors all year round, regardless of the weather.
Lotte Duty Free stocks a large variety of brands and has branches all over the country. It has a branch right in the center of Seoul conveniently located next to hotels. Connected to the Lotte Department store is the Lotte Hotel, a high-class hotel which is particularly popular with tourists.
DAY9. HOTEL – ICN AIRPORT
After hotel check-out, you will be transferred to the ICN airport. Hope you had a great time in Korea with Creven!